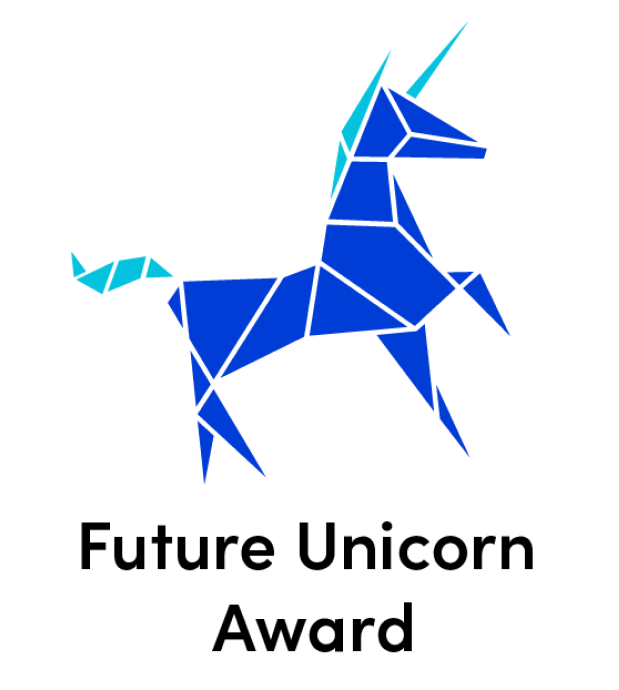 Future Unicorn Award
The most promising technological enterprise of Europe,
Oncompass Medicine won the Future Unicorn Prize
Oncompass Medicine, a Hungarian cancer research company, became the prize winner of DIGITAL EUROPE. The future of Unicorn, the most promising European technological enterprise with an estimated future value of over 1 billion USD, was chosen from the most highly-ranked competitors. Year 2021, defeating several European companies, Oncompass medical biotechnological enterprise won the future of Unicorn Award.
The officer of the European Committee of Innovation and Research handed the trophy over to Dr. Istvan Peták, Founder and Scientific Chief Officer of Oncompass Medicine, on the 4th of February, comemmorating the World Cancer Day. This year, this event was held 4th time around for digitial tech companies so that the award can be given to the most promising European company with the greatest expectation for becoming the most valuable future of Unicorn by making the greatest impact on the world.
This year, 17 European countries from 21 different sectors (energy, finance, education, healthcare, security) competed for the Future Unicorn Award. The Hungarian Oncompass Medicine ultimately defeated the other 2 finalists, the Swedish Exeger (solar cells built in consumer goods) and the Norvegian Ocean Sun (floating solar power station). Oncompass Medicine from Hungary won the Future Unicorn Award with a medical technology that is developed for the purpose of selecting the right targeted treatment for cancer patients. Realtime Oncology Treatment Calculator is unique in being able to rank personalized targeted therapy options within 20 milliseconds in 405 different tumor types based on 52,000 mutations, 26,838 medical-biological principles, 1417 compounds using available scientific evidences. Today, when 20 people die of cancer in a matter of a minute while a new cancer is diagnosed every 9 seconds in Europe, this invention by Oncompass is a pivotal step in the way of successfully treating cancer.
Dr. Istvan Petak, Founder and Scientific Chief Officer of Oncompass Medicine said:
"All dreams can become reality when multiplicating human physical capabilities. By inventing the wheel, we became faster then animals, oxygen bottles made us breath longer under the sea, with microscope the invisible became visible, vaccination strengthen our immune system so that we can better fight against viruses. Today, the indispensable inventions are developed by enterprise tech start-ups. Great example is Karikó Katalin, who has developed the first vaccine against COVID-19 at a german BioNTech company. "
This year DigitalEurope primarily ranked Unicorn applicants according to the societal impact of their technological solutions on challanging matters while the economical impact became secondary. This is extremely important during the era of climate catastrophe, covid pandemic where human lives matter. This is a great honor for Oncompasss to be chosen as the most promising tech company this year. Though international contesting in science and innovation is paramount, we could not have accomplished this without local support such as given by ICT Association of Hungary, which we are extremely greatful for.
I am proud that we had successfully represented Hungary in this competition and hope that we were able to shift the focus to other Hungarian innovations, researchers and companies. The main goal of the Future of Unicorn Award is for Europe to become the world greatest power of technology. Today, only 12% of the world's Unicorns are located in Europe, which is significant compared to the 6% in 2014. DigitalEurope is aiming to reach 25% by 2025, which would require a strategy to strengthen digital technology and market to inspire venture and innovation in Europe.